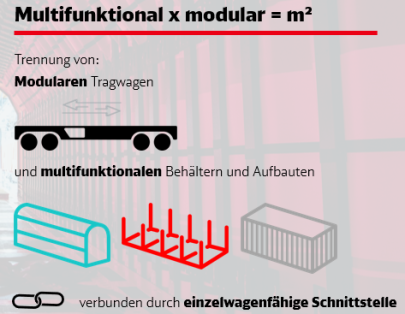 The m² freight wagon is an innovative concept characterized by the separation of modular flat wagon and multifunctional container, allowing individual adaptation to transport purposes and customer needs. The modularity of the flat wagon is characterized, among other things, by a high degree of standardization, which means that the wagon length can be flexibly configured over the life cycle in the long term.
Since the intermediate storage of the multifunctional containers will also have to be taken into account in the future, the m² concept also influences the planning of the depots and the control of the freight wagons. Due to the separability of the flat wagon and the container, the containers can be temporarily stored and maintained in depots when not in use without the need for a flat wagon.
The research projects carried out jointly with DB Cargo as part of the Forschungslab innovativer Güterwagen m² analyze the effects of the innovative m² freight wagon at various levels. To obtain an comprehensive understanding as possible, the projects are examining the strategic planning of depots and transshipment locations/capacities, the control of containers and even the internal processes in the depots.
The project "m² – Planning" addresses the changed strategic requirements for the depots and transshipment locations. The project will develop heuristic planning procedures to solve strategic planning problems in the context of the multifunctional and modular freight wagon. In the course of this, the analysis of the changing demands on depots and transshipment locations and the development of algorithms for the strategic planning of, e.g. transshipment capacities and locations, will be part of the focus. Mathematical optimization is to map the demands and transports in the rail network and the required handling and area capacities in the handling locations and depots are to be calculated based on the container transports determined. Both historical and forecast data are to be included in the optimization, which requires the consideration of uncertainties in the data. In order to be able to use the required amount of data in the optimization, a heuristic solution procedure will be developed.
The aim of the "m² – Planning" project is to develop an optimized location and capacity concept for depots and transshipment sites for the m² freight wagon.
Key Data:
Project Duration: July 2021 to June 2024
Funding: The project is supported by DB Cargo AG as part of the Forschungslab innovativer Güterwagen m².
Project lead: Raphael Hackober